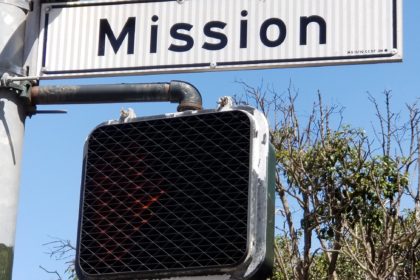 Got in this Southwest airlines plane and headed out to San Francisco, California – the "Paris of the West." Full of trend setters, culture, and some of the most amazing food anywhere.
There are so many places to go in San Francisco, but in this occasion I decided to visit the Mission District. One of the most eclectic mixes of people and cultures. My first stop was street Pupusa man. He didn't really want to be on camera because he was afraid Trump would deport him, so I just focused on the delicious pupusa revuelta which is a rice flour patty stuffed with chopped pork rinds, cheese, beans, zucchini, and other vegetables.
I also got some atole, which is a sweet corn and milk drink. With actual corn at the bottom. Absolutely delicious stuff.
I then headed down the street to Taqueria El Farolito, which based on all the reviews, it's one of the best Mexican food places around.
After leaving there, I walked down the street a bit and heard some Wutang Clan music coming from a coffee shop. So I knew I was going to like something from this place.
So after some delicious Pupusas, an expensive ass taco and good coffee, it was time for me to head to my next location.  Make sure you subscribe to my Youtube Channel to see where I'll be at next!